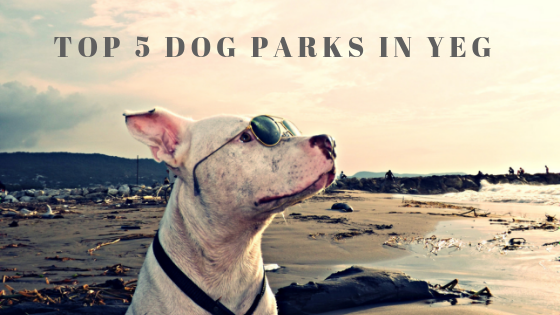 Edmonton has some awesome off-leash dog parks where pups can play, run, swim, and socialize with new friends! I've compiled the Top 5 Best Dog Parks in Edmonton to take your fur-baby!
1. Mill Creek Ravine North and South
The ravine flows into the North Saskatchewan River and runs north-south from Connors Road to Argyll Road. This one is our go-to park and Scarlett's second home! There are endless trails, "beaches" off the walking paths, open spaces for dogs to chase each other. The water is a bit dirty but a lot of dogs still swim. It's on a multi-use path so watch out for bikers and runners!
2. Terwillegar Dog Park
Located on the south bank of the North Saskatchewan River at the end of Rabbit Hill Road. This one is another favorite of ours. It goes on forever! Great for ball throwing in the open spaces. There is a maze of winding trails, water access, and tons of pups to play with!
3. Buena Vista Dog Park
Located on the north bank of the river, adjacent to Laurier Park. The trails that lead to the park are so beautiful and relaxing. The dogs get to play hard in a big open field; this one is sure to guarantee a tired pup!
4. Alex Decoteau Park
I was so happy when the City of Edmonton announced their plans for a new dog park right in the middle of downtown! Located on 105th street and 102 Avenue, it's a great place to take the dog for a play and then check out the 104th street market or Mercer Taverns dog friendly patio! The park is fully fenced with dog friendly surfacing and trash receptacles.
5. Paisley Dog Park
Located in Edmonton's Heritage Valley in South West Edmonton, the community of Paisley has a fenced dog park with agility training courses. Scarlett LOVED jumping through hoops and going on the seesaw!
These 5 parks are my personal favourites, though there are plenty around the City and surrounding communities that are worth a visit!
Check out the links below to other Off-Leash Areas:
Edmonton:
Let's keep our parks safe and fun for everyone!
There are some rules and proper etiquette for dog owners to follow within the parks. Here's a list of
-your dog must be licensed, and you need to have the city issue tags on your pup
-your dog must be up to date with vaccinations
-your dog needs to be able to respond to your voice commands and quickly to keep other animals and park visitors safe
-bring some poop bags!
-a lot of the trails are "multi-use" meaning they're shared with bikers, runners, etc. share the trails!
-keep your pup close and within sight
-always carry a leash and be ready to leash your dog if needed
-be a friend to other dog owners – if they need some help or their dog is lost, lend a hand!
Have fun, be safe, and hope to see you at one of our awesome parks!